Looking for A Great Way To Generate More Customers and Sales Or An
Easy to Start Small Home Business? ...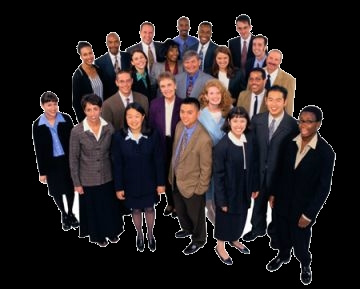 Then We Have a Great Offer For You! Boost Your Sales Conversion Rate by Using our Valuable 4 and 5 Star Resort Vacation Premiums. They are perfect to Use as a Customer Bonus or to Start Your Own Vacation Resort Marketing Business. We supply practically everything you need to get started. Just Look Below to See what this Amazing
Resort Marketing Business Package includes!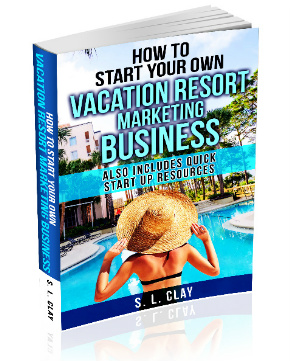 Get a Complete Easy to Understand How-To Guide
The book is great for beginners and experienced Sales and Marketing Professionals. It takes you from beginning to end of how to get your Vacation Resort Marketing business up and running in no time without any further investment.


Master Reseller or Affiliate Reseller Licensing Options
The licensing options available makes this business affordable for the small business owner as well as people who are searching for a legitimate, affordable small home business to start. Select the RR license option that is right for you.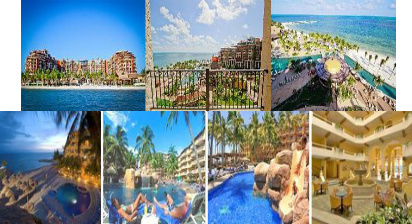 Market For Exclusive 4-5 Star Vacation Resorts Around the World
What better way to start a business or enhance your present business than to have a quality service product to offer your clients and customers. In addition we will also connect you to more perks and freebies to give away to your prospects to build trust, rapport and long time clients and customers.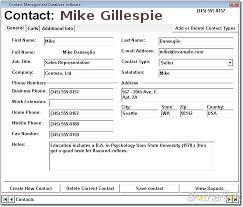 Ouick Access Desktop Contact Management Software
This efficient contact management program will help you organization your prospects and customers quickly. No complicated CRM tutorials to learn. Just download, save to your computer, locate double click to install and it's ready to go!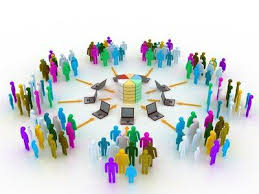 Get Access to Daily Business Opportunity Leads
You will have access to daily business opportunity leads to start invite them to take a look at your new business. One of the biggest problems in starting a new business is building a mailing list. Now you can build a list with people who are actually interested in taking a look at your opportunity. (Anti-SPAM Policy applies).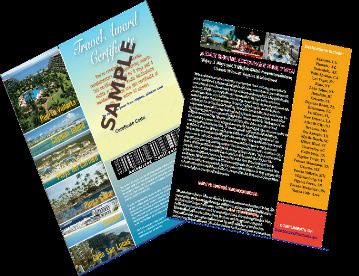 Print Unlimited Resort Premiums and Vacation Certificates
Master Resell Rights license authorizes you to rebrand, print and sell unlimited luxury resort premiums and 3day 2night vacation certificates to give away or resell in bulk. Similar programs charge up to $100 per month without all the extra bonuses that we include in our Resort Premium business package. Affiliate Manager licensees are authorized to print unlimited 3day 2nights vacation certificates and have the option to earn 50-60% commissions plus annual residuals on 4-5 Star resort vacation premium sales.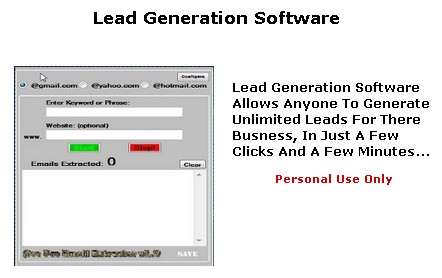 Bonus Software to Jump Start Your Business
Master Resell Rights licensees also get this amazing software that will generate a continuous flow of fresh, targeted leads to help build your business fast. Also complete marketing training and video tutorials on how to use the software. An easy software to use yet effective. Also comes with free autoresponder.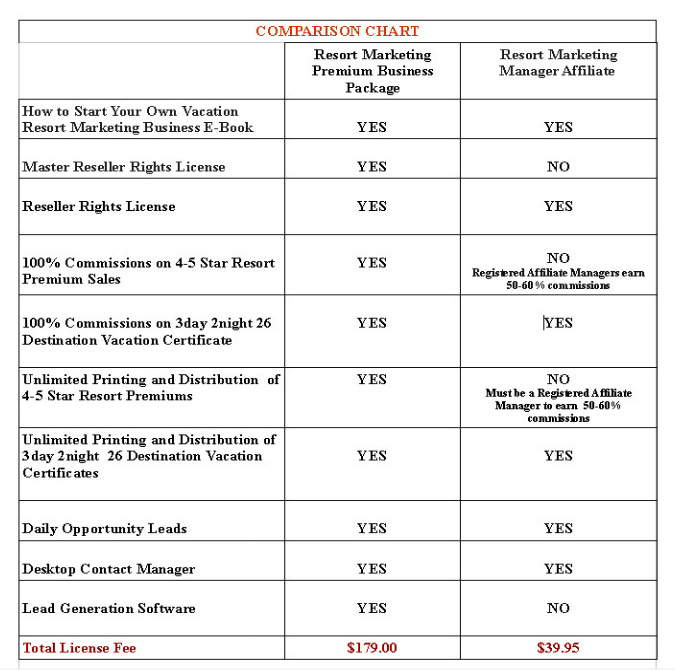 Resort Marketing License Options
Review the Resell Rights license options and everything that is included on the chart above to determine which license will best suit your needs. For novice internet marketers that do not have a primary business, the Manager Affiliate license will allow you to learn the business and upgrade at a later date if you so desire. If you have an established primary business and want to add an additional service product, generate additional income and make 100% commissions, the Resort Marketing Premium package would be a good choice.


WW

o
As you can see this package can be categorized as an instant business since it contains practically everything you need to get started! So what are you waiting for? Click the purchase button below, make your license selection and you will be able to download your Resort Marketing Business package in no time flat!
Still Have Questions? Just click on the Customer Service Rep ------->



Copyright © 2011-2016 ResortVacationPromotions.com All Rights Reserved